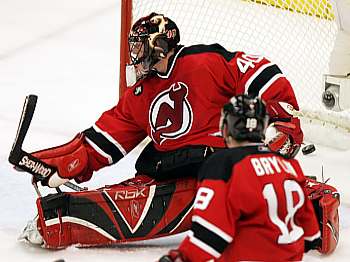 ...especially now that this kind of expected decision has been made.

Maybe he does, because his decision to play the little-used Scott Clemmensen in goal will not please the damned Leafs captain, Mats Sundin.
Actually, it has not yet been announced, but TSN and the Toronto Star are reporting this.

"I hope Brodeur plays," said the Swedish Captain to the TSN media after the Leafs beat you-know-who yesterday, 6-5.

Of course he wants Brodeur to play, then that gives the Devils the advantage over the Islanders.
Now, if you're really behind in all this, the Islanders are a point behind the (sigh) 8th place Leafs and can surpass them and qualify for a playoff spot if they beat Lamoriello's Devils today.

Giving Scott Clemmensen the call in goal is a wise choice by the enigmatic Lou Lamoriello.
Brodeur needs a rest, especially now with the playoffs in the horizon, the Devils netminder will probably enjoy getting a day off; the game today has absolutely no significance to them but is pivotal for the Islanders, who will either qualify for the playoffs today and knock off the Leafs, or, even worse, if they lose (how could they with Clemmensen playing?!), Toronto will win the lottery and advance to the post-season.

The least that the Islanders can do today, is beat Jersey to (yes!) take the Leafs out of a possible playoff run.

All indications point to Wade Dubielewicz getting the nod for the Islanders.
The minor-league callup has been impressive in his recent stint for the Isle, he saved their season after relieving the depleted Mike Dunham, who just couldn't stop a beach ball at this point.

It should be a good game, but, don't be surprised at all if the Islanders win, with respect to Scott Clemmensen, it's obvious right now who has the clear advantage.

Thank you Lou!

I wonder who's the best golfer on the Leafs? I'll put my money on Matt Stajan...