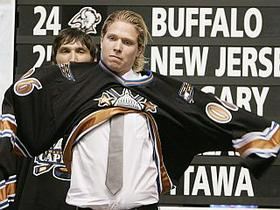 No, not the guy who's taken over as the number one guy in the Wild's net...it's Nicklas Bäckström, the first 4th overall pick taken in the new NHL era by the Washington Capitals.

"Washington selects...Nicklas Bäckström"

Those were the words Caps owner Ted Leonsis's good boy and ever-famous, Alexander Ovechkin said with a big grin accross his face as he was anointed to announce the Capitals 4th overall pick, just a year after they gained him 1st overall.

And now, he's coming to the NHL according to multiple Swedish publications.

First of all, to end all speculation, Bäckström is Swedish and the other Backstrom is Finnish, bitter hockey rivals. (you've never seen Saku Koivu and Mats Sundin gets some words in, huh?)
And to avoid confusion in this post: Nicklas Bäckström is the Swedish forward and Niklas Backstrom is the Finn netminder.

Now...Bäckström proudly walked up to that podium, shook big boss Ted Leonsis's hand, boss George McPhee's hand and their boss Alexander Ovechkin's hand.

His draft position, 4th, is also his position in the top chosen Swedish players in an NHL Entry Draft.
He sits in 4th place behind Mats Sundin (1), Daniel (2) and Henrik Sedin (3), who were taken 1st, 2nd and 3rd overall respectively.

Bäckström nearly made it to the NHL this season, the Washington Capitals offered him a contract in the summer of 2006 and he officially turned it down in July to remain in another elite Swedish league, Elitserin, with Brynäs IF.

His statistics haven't been amazing with Brynäs IF, and despite being named Rookie of the Year in 2006 and Junior Hockey Player of 2006, he only put up 40 points in 45 games, 12 of those being goals, in his current season.
Those are respectable numbers, but not the kind the Capitals would like to see transition over to North America...

It's always difficult to take European scoring stats and compare them with what would happen in North America, he has always excelled in international play anyway...19 points in 24 games.

Nevertheless, scouts rave about Bäckström's talent:


An extremely talented two-way center born 1987. Bäckström stands out with his tremendous hockey sense and soft hands. His technical skills are very good and one of his trademarks is the way he moves the puck into the offensive zone. He stickhandles really well through traffic. Offensively his passing skills are superb. His flip passes are perhaps a bit risky, His shot is decent, although it can and should be improved, and although he is still more of a playmaker than a scorer, he has a pretty good scoring touch.

Defensively Bäckström takes care of his responsibilities and is a rather good penalty killer. He could use some work on his conditioning and skating. Not slow by any means, but there is some room for improvement. Bäckström is not an overly physical player, but he is pretty strong and tough to knock the puck off. Has the tools to become a high-quality NHLer in the future.
"More of a playmaker than a scorer" is probably why George McPhee is hot about this kid, he's going to set up Ovechkin for, who knows how long?
5 years, 10 years , 15 years?
Dainius Zubrus was decent this year in giving Ovechkin his chances, but Nicklas Bäckström is prepped to be even better.
Wanna meet him?
YouTube has a nice intro video on him.
With the Capitals in need of some sort of lofty miracle, Nicklas Bäckström is most likely the next stone to help turn around a miserable Washington Capitals hockey team.